Euroroute Logistics
Six benefits of using premium home networking devices for Internet Service Providers
Euroroute Logistics
In the rapidly evolving world of internet connectivity, it's essential for Internet Service Providers (ISPs) to stay ahead of the curve. One key differentiator is the quality of the home networking devices you provide your customers. By partnering with Euroroute Logistics, a leading CPE deployment provider, Cloud ACS supplier, and fulfillment partner, ISPs can leverage the benefits of premium home networking devices, such as the AVM FRITZ!Box range of products.
We look at six compelling benefits of using these high-quality networking devices: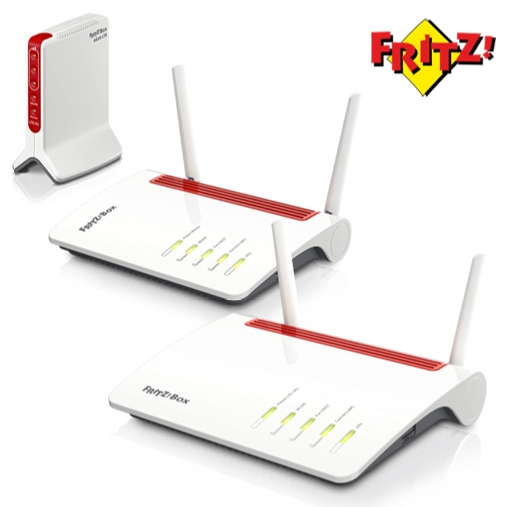 1. Superior Connectivity:
Premium home networking devices offer cutting-edge technology, ensuring faster and more reliable internet connectivity. The AVM FRITZ!Box provides robust Wi-Fi signals and seamless roaming, guaranteeing your customers always have the strongest connection in every room.
2. Advanced Security Features:
Premium devices incorporate enhanced security measures to protect your customers' online activities. They offer powerful encryption, integrated firewalls, and automatic updates to keep up with evolving cyber threats. This peace of mind is invaluable in today's digital world.
3. Rich Feature Sets:
Beyond the basics, premium devices often have added features that improve user experience. From comprehensive parental controls to integrated voice services, these features are an attractive selling point for customers.
4. Scalability:
High-quality networking devices are designed to support future technology advancements, making them a worthy long-term investment. They can accommodate increases in bandwidth and the addition of new devices, ensuring that your customers' home networks can evolve as their needs change.
5. Ease of Use:
Premium devices are typically designed with user-friendly interfaces, an integral feature that adds to their appeal. This translates into a simplified experience for customers regardless of their technical proficiency. The FRITZ!Box iOS comes with intuitive dashboards and controls that allow customers to effortlessly set up their networks, modify settings, or troubleshoot minor issues, right from the comfort of their own home.
6. Enhanced Customer Satisfaction:
By offering premium home networking devices, you're providing your customers with a superior internet experience, leading to improved customer satisfaction, reduced churn rates, and potentially, increased customer lifetime value.
Euroroute Recommendation
In addition to these compelling benefits, there's the advantage of partnering with a seasoned provider like Euroroute Logistics. With 20 years experience, Euroroute delivers an end-to-end, no-touch deployment service, ensuring seamless connectivity for your customers.
Euroroute's comprehensive suite of services includes device procurement, warehousing, configuration, and direct dispatch to the end-user, saving you time and resources. As a trusted fulfillment partner, we streamline the process, enabling you to focus on your core business.
Remote Device Management
Euroroute partners with AVSystem to deliver a best in class Cloud ACS solution that further simplifies the mass management of devices in your network. This cloud-based service provides the tools to configure, monitor, and troubleshoot devices without the need for an engineer to visit the customer's premises. The result is a significant reduction in operational costs, truck roll, faster resolution of issues, and a smoother experience for your customers.
Contact Euroroute
Premium home networking devices offer a myriad of benefits, setting  you apart as an ISP in an increasingly competitive market. In partnering with Euroroute Logistics, you're not just choosing a provider; you're choosing a trusted partner dedicated to ensuring your success. Together, with top-tier products like the AVM FRITZ!Box, you can enhance the overall internet experience for your customers, ensuring their satisfaction, and ultimately, their loyalty.
With Euroroute Logistics, you have the ability to turn the demand for internet connectivity into an opportunity to provide outstanding value and service, cementing your position as a preferred ISP in the Irish market.
The quality of networking devices that ISPs provide is the key differentiator.
By partnering with Euroroute Logistics you are ensuring success with top-tier products like the AVM FRITZ!Box. Provide the best internet experience for your customers.