Euroroute Logistics
Empowering Connectivity Across Ireland: Spotlight on AVM FRITZ!Box 5530
As we navigate the evolution of the digital age, it's clear that reliable, seamless, and efficient internet connectivity is pivotal. For Irish Internet Service Providers (ISPs), the quality of the Customer Premises Equipment (CPE) for end users can play a crucial role to differentiate your offering. In this article we bring into focus an industry powerhouse – the AVM FRITZ!Box 5530.

Euroroute Logistics provide a no-touch CPE deployment for Internet service providers, offering pre-configured devices shipped directly to end users. Our partnership with AVM FRITZ!Box solidifies our commitment to top-tier CPE devices that deliver full home Wi-Fi coverage.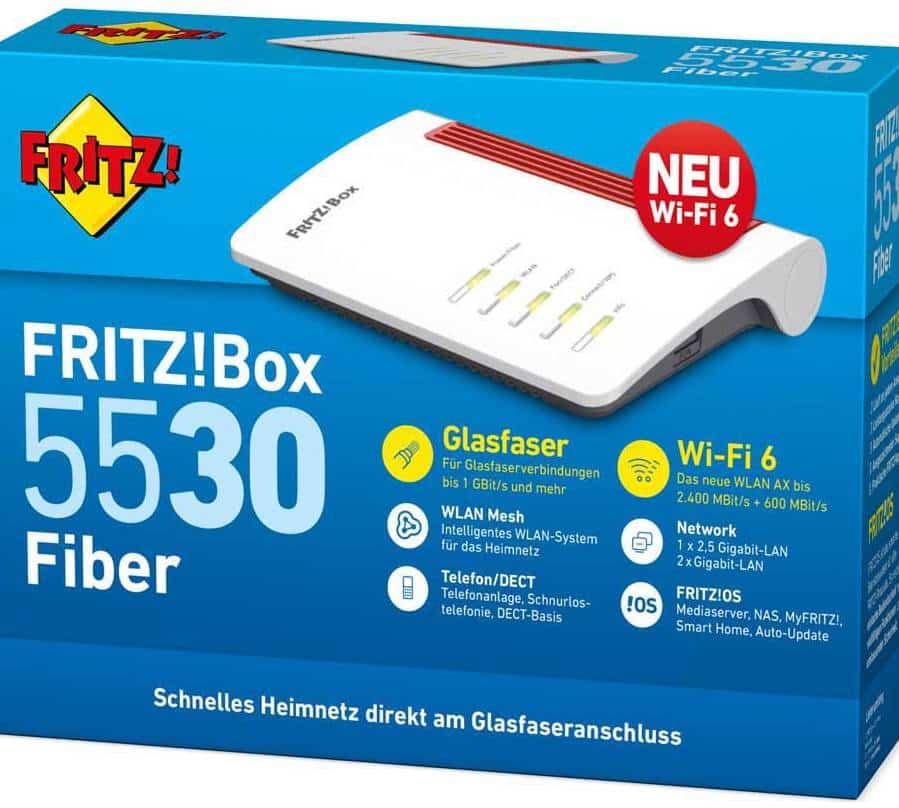 A Device Laden with Features
The AVM FRITZ!Box 5530 is a modern router tailored to the requirements of today's Irish internet users and ISPs alike. Its sleek design conceals an array of features that can help reshape how we understand connectivity. With top-tier functionalities like MESH Wi-Fi 6, Multi-User MIMO, and a 2.5 gigabit WAN/LAN port, the FRITZ!Box 5530 Fibre emerges as a quality router option for Irish home networks.
Key features include:
Fibre optics compatible with AON, GPON and XGS-PON
Wi-Fi 6 delivering up to 2400 Mbit/s + 600 Mbit/s
Comprehensive telephone system, wireless telephony, and Smart Home features
Network with 1 x 2.5 gigabit WAN/LAN and 2 x gigabit LAN
Supports 6 wireless phones, inclusive of voicemail
User-friendly and intelligent apps
From AON, GPON to XGS-PON: The FRITZ!Box 5530 Fibre seamlessly connects with any fibre optic line – negating the need for media converters or provider-centric modems. An integrated slot for fibre optic modules (transceivers) ensures flexibility depending on connection type.
Adaptable Fibre Connectivity

Distinct editions of the FRITZ!Box 5530 Fibre cater to every type of fibre optic connection. The relevant FRITZ!SFP is provided, and in addition to IPv4, this router supports the IPv6 internet protocol.
Uninterrupted Connectivity
The AVM FRITZ!Box 5530 delivers seamless internet experiences. Equipped with Wi-Fi 6, users can expect superior data rates and capacity. This not only promises consumers premium browsing but also decreases troubleshooting for ISP support teams. It's an investment in the future, geared to meet tomorrow's digital challenges and retain customer trust.
Versatility Defined
Beyond Wi-Fi, this router furnishes diverse connection possibilities. Its support for telephone systems and smart home features makes it a comprehensive solution for today's interconnected Irish homes.
Streamlined Operations

The AVM FRITZ!Box 5530 simplifies operational challenges. Pioneering 'zero-touch deployment', it can be preset with ISP-specific settings. Euroroute ensures direct shipping to consumers for a hassle-free installation.
Effortless Remote Handling

Integration with the TR-069 protocol facilitates remote management by ISPs. From monitoring to firmware upgrades, ISPs can resolve issues swiftly without technician visits.
User-Centric Design

With the AVM FRITZ!Box 5530, superior user experiences are guaranteed. Its FRITZ!OS interface is intuitive, offering insightful data visuals to assist users in optimising their online experience.
Uncompromised Security

The router also delivers on safety with a built-in firewall, guest controls, and advanced parental settings. Users can confidently surf, assured of network protection.
Euroroute Recommendation
Euroroute Logistics recognises the influence of superior CPE in ISP service and customer satisfaction. Thus, we've joined forces with AVM, introducing the FRITZ!Box 5530 to Irish ISPs.
Complete Service Packages

Euroroute simplifies processes, offering all-encompassing solutions. From supplying pre-set devices to leveraging Cloud ACS for remote device handling, we enable Irish ISPs to excel at service delivery.
Contact Euroroute
The AVM FRITZ!Box 5530 is an all-inclusive connectivity solution for Irish ISPs. By partnering with Euroroute, you can enhance your product and service offerings and thrive in the Irish ISP market. Contact us today and learn how we can reshape Ireland's digital landscape with the AVM FRITZ!Box 5530.
The AVM FRITZ!Box 5530 is an all-inclusive connectivity solution for Irish ISPs.
The AVM FRITZ!Box 5530 is a modern router tailored to the requirements of today's Irish internet users and ISPs alike.